Ride Across America
If you could recall your life until now, and select the most daring, highly ambitious, unexpectedly accomplishable and completely satisfying event in your life, what would it be?

Our 280-mile bike ride from Yuma, Arizona to Carlsbad, California is one experience that will remain a cherished memory for me and my 11-year-old daughter, Priyanka. Organized by Gary Rossi and Jesse Pazdernik, The Ride Across California is a cycling event for fifth graders.

After seven months of training, we started the tour by dipping our rear tires in the Colorado River. This was a seven-day riding and camping trip with a few lucky days when we could shower.

Fifty-two kids, parents and alumni began this incredible journey to discovering their capabilites while viewing our wonderfully diverse state of California.

The daily routine began at 6 a.m. with breakfast and riding by 8 a.m. Most riders reached their destinations between 3 p.m. and 7 p.m., pausing for a quick lunch on the go. A roaring campfire with spooky ghost stories was the grand finale to each evening.

The first day was brutal, with winds over 35 mph lashing out at us, intermittently walking in soft sand parallel to the railroad. We rode about eight hours straight, only about 21 miles! Our campsite, Gold Rock Ranch at Winterhaven, was in the middle of nowhere, with miles of barren land around.

Similar winds greeted us the following morning, but we managed 55 miles, riding across the pristine sand dunes of Glamis. We glimpsed off-road enthusiasts zooming all over the dunes, and wished our bikes had little motors, too!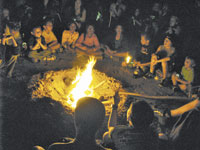 The third day was 38 miles—a much-needed easy ride, with calmer winds. We stopped at the Naval Air Facility in El Centro, and they graciously let us use their showers and pool. Everyone enjoyed that tremendously, and it provided a cool relief for our hot bodies.

Day Four turned challenging again, due to dry heat and a long, 50-mile ride through Plaster City to the Vallecito campground. Riding through the Anza Borrego desert towards Agua Caliente was draining, and we spent every few minutes re-hydrating ourselves. The desert was beautiful, with exquisitely colored flowers and wildlife.

The next day was mostly uphill, about 35 miles. We climbed three big hills and a continuous seven-mile uphill stretch on Route 78 called Banner Grade. Kevin was the first boy to reach the top, at 51.39 minutes, and Claire was the first girl, at 65 minutes. We reached Julian, where riders braked to have yummy pie.

A 46-mile, mostly downhill stretch along beautiful Black Canyon road was the next endeavor. On the way, we stopped at Dudley's Bakery to eat fresh bear claws. The narrow and bumpy trail was full of switchbacks covered with gravel and sand, making it very dangerous for riders. A fast fall here could mean sliding over the edge, right down the cliff. We did stop to let our eyes wander on the green slopes and the lovely countryside.

The last 30-mile day was relatively easier than all the other days because most of us couldn't feel our legs anymore. After riding up some steep hills in Escondido, we stopped at Dennis Bueker's house for a scrumptious breakfast. Bueker is the original founder of the RAC, along with Mike Fickel. He was the last rider every day, faithfully ensuring that everyone safely reached base.

The ride to Carlsbad was easy. After a strawberry-picking interval, we continued to the beach—our final destination—where kids ecstatically dipped their front tires into the Pacific Ocean. Seven kids were awarded cycling jerseys for values such as outstanding achievement, tenacity, perseverance and YMCA core values (respect, honesty, caring and responsibility)— Zoe, Priyanka, Winifred, Hannah, Denae, Max and Marisa.

The chase drivers and kids were a great help. Besides supplying water and Gatorade and guiding us through the route, they were big morale boosters. They spent hours helping, preparing lunch and fixing wounds. Some kids developed heat exhaustion or asthma, but with attention, completed the ride. Rossi was a never-ending source of inspiration to all, so much energy and passion that it fueled our energies right back! Without the volunteers, this tour would simply not have materialized.

Scott Clements filmed the riders and volunteers, making it easy to revive our memories and excite future generations to try it!

Reactions from the kids:

Best part of the RAC?
David — "Downhills were fun!"
Thomas — "Dudley's bear claws."
Vidya — "I got better at biking!"
Kevin — "Winning Banner Grade, and camping was fun!"
Itzel — "The Pool at NAF."
Denae — "Riding down Black Canyon, seeing the hills so pretty!"
Jessica — "Bonding with new people and having fun!"

Worst part of the RAC?
Daniel — "Parting with all the friends I made."
Ethan — "The ride was pain and suffering, but I knew I could do it!"
Kiyomi — "All the uphills."
Tonia — "Going through Plaster City, and the winds and uphills."
Priyanka — "Climbing Banner Grade. Also getting heat exhaustion in the desert."



>> Read Geeta Shreedar's article in the April issue of San Diego Family Magazine for more information on the Ride Across California.
-----------------------
Geeta Shreedar is a freelancer who completed the ride with her fifth grader, Priyanka. Her husband Shree and younger daughter Prajna acted as chase drivers, supporting the riders.
Experience the
Ride Across California