How to create a special celebration for your child who's birthday falls on a holiday.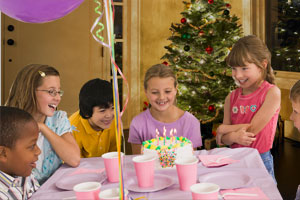 To you it might be the Fourth of July, but to Laurie, it's her daughter Nicole's sixth birthday. Jenna's birthday is October 31—Halloween. Melissa's birthday falls on Thanksgiving every fifth or sixth year. Occasionally, Mikey's mom has to compete with Easter when planning her son's birthday.

Birthdays that fall on or near a major holiday often get swept into the hoopla of that occasion. To guarantee your child a memorable celebration no matter what the competing holiday—and insure that his friends will be able to attend your party—consider these points.

Where & When
Think about having their birthday party before or after the actual date. Often times, many families travel to be together during holidays. If your child's birthday falls on a major holiday like Thanksgiving, Christmas or Easter, you might be better off hosting your party so it doesn't compete with family plans.

Themes
Does your child like her birthday tied to the holiday? If she loves Valentine's Day, then it's probably not a problem if her birthday cake is covered in hearts. However, if she wants the two occasions celebrated separately, supply their party with a regular birthday cake (yellow roses, a clown, some balloons). Nothing on the cake should remotely be associated with the holidays (no candy canes, flags, shamrocks or turkeys).

Expectations
Go with the flow. "Jenna's birthday falls on Halloween, so we just make that our theme," says mom, Diane. "Kids love dressing up in costume and we do all the traditional Halloween games, like bobbing for apples. We even have a scariest costume contest. We find it best to have our party the day before Halloween, so we don't interfere with trick-or-treaters," Diane adds.

Other Considerations
Get your invitations out early. Family schedules fill up quickly. Sports commitments, music lessons, school activities all vie for precious time. Send invitations out 2-3 weeks prior to the party.

Claire Yezbak Fadden is a freelance writer living in Chula Vista.