Company Overview
A Look Back at San Diego Family Logos
San Diego Family Magazine - A Look Back
SDFM has been San Diego County's best parenting resource since 1982. We grew from 8 pages to nearly 200. Recently, we joined the Internet revolution, and each issue is now available online. You can also connect with us via Facebook, Twitter and email. It's never been easier to access your favorite family guide!
---

1982
• The 8-page Parents' Press sells for $1.25.
• A pack of Pampers Newborn Diapers sells for about $2.95.
• The Old Globe Theater opens in Balboa Park.
• Pete Wilson becomes the first elected U.S. senator from San Diego.
• A first-class postage stamp costs 20 cents.
---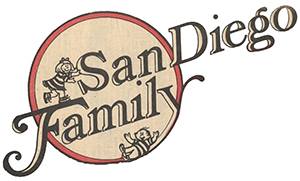 1984
• Sharon and Larry Bay purchase San Diego Family, a free publication reaching 40,000 readers.
• Horton Plaza shopping center opens in downtown San Diego, part of a 140 million dollar redevelopment project.
• The San Diego Symphony gets a new home at Symphony Hall (formerly the Fox Theatre).
• Padres win National League Pennant and World Series games first played in San Diego.

---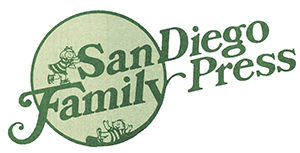 1986
• SD Family Press reaches 53,000 readers.
• Maureen O'Connor is elected as San Diego's first woman mayor.
• North County Fair shopping center opens in Escondido.
• Space Shuttle Challenger explodes just after takeoff.
• The average price of a gallon of gas is 89 cents.

---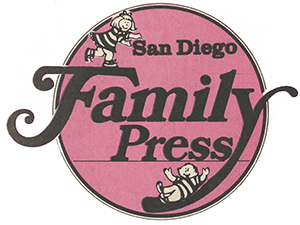 1988
• Family Press changes its format from a newspaper to a magazine.
• San Diego hosts its first Super Bowl at Jack Murphy Stadium.
• America's Cup, an international yacht race, is held in San Diego.
• The first major computer virus spreads.
---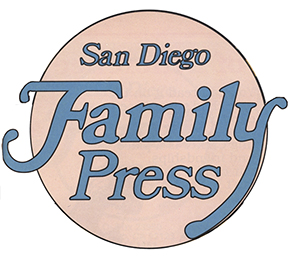 1990
• SD Family Press gets a glossy cover. It offers the first local education and after-school enrichment guides.
• The population of the City of San Diego hits 1,110,549.
• Former Mayor Pete Wilson is elected Governor of California, becoming the first governor from San Diego.
• California State University, San Marcos, opens.
• The first McDonald's opens in Moscow, Russia.
---

1993
• The magazine boasts a readership of 120,000.
• The magazine moves into its downtown office.
• There were 48,810 births in San Diego County.
• Janet Reno is confirmed by the United States Senate and sworn-in the next day, becoming the first female Attorney General of the United States.
---

1994
• The California Center for the Arts opens in Escondido.
• A magnitude 6.7 earthquake occurs in Northridge.
• A first-class postage stamp costs 29 cents.
---

2002
• The renamed San Diego Family Magazine celebrates its 20th year of publication and reaches 120,000 readers.
• The UN recognizes September 21 as International Peace Day.
• Kelly Clarkson wins the first American Idol contest.
---

2010
• SDFM gets a fresh new look, from cover to cover.
• SanDiegoFamily.com wins a Gold Award from Parenting Publications of America.
• Now you can friend SDFM on Facebook and follow us on Twitter!
• Still San Diego County's best events and parenting resource!