How One Father Deals With His Girls Becoming Young Women
My daughters are growing up too fast, and it needs to

stop!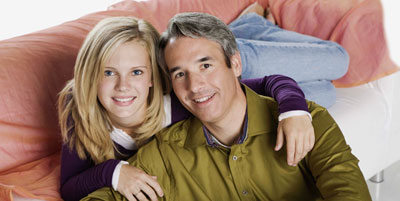 A few weeks ago, I came to the harsh realization that my daughters are growing up. While on some level I understand that this has to happen eventually, I would prefer that eventually was much farther in the future.

Several weeks ago, I was watching a hockey game and folding laundry, the latter of which is no small task in our household. You see, I live with my wife and four daughters, ages 10, 13, 13 and 13, in our Garden of Estrogen (that's right, we have triplets). So I've grown accustomed to the mishmash of my clothes together with those of five females. However, I feel like 80 percent of the garments should still be adorned with Disney characters.

Working my way through the mountain of clean laundry, I came across a pair of eye-catching bikini underwear and a matching string tank top.

"Hey honey, when did you get these, and why haven't I seen you wear them yet?" I asked my wife.
"Because they belong to your daughter," she replied.
The only things that dropped faster than my jaw were the garments from my hand.
"From now on I will fold linens and towels, anything clearly male, and anything with a team logo. The rest is all yours!"
That was only the first sign that I was living in a world that actually permitted little girls to grow into young women. It seems like only last week that my neighbor called me and said, "Let's coach the kids' kinder soccer team together." Nearly seven years and fourteen seasons later, I'm still coaching girls' soccer, but a few days ago I was talking to our team trainer when a woman tapped me on the shoulder. When I turned to speak to the person I thought was a parent, I suddenly realized it was one of my 13-year-old players.

When the triplets were toddlers, I used to watch the three of them scurrying around the house and observe, "They look just like little people, only smaller." Then when they reached school age, the observation changed to, "They look just like little people." Now they are starting to look like big people.

Sometimes I walk into their room late at night. Where their cribs, and later their toddler beds used to be, three full sized beds take up practically the entire floor. The walls and headboards are adorned with county fair ribbons, pictures of sports teams, race medals, religious items, and various other "treasures." In the aforementioned beds are sleeping forms that take up way more space than I ever expected from people who once shared an abode the size of a basketball between my wife's hips and her ribcage. Our second triplet, who appears destined to hit adulthood as the family "shrimp," is 5 foot 3, our third will soon hit 5-foot-6, and our first is somewhere in the middle. None of them show signs of topping out any time soon. The youngest seems likely to pass them all.

And the feet! One of the triplets wears women's size 8, another wears a 10, and one just bought size 9-1/2 men's New Balance 620 Cross Trainers. Whatever happened to all those cute little sneakers with the blinking lights? Last week I even discovered the 10 year old wearing a set of heeled clogs that she got from her cousin. I'm not sure I'm ready for this!
Fortunately I have found a way to deal with the situation, at least with my own daughters. Close my eyes. It turns out that most of what comes out of their mouths still sounds like girls—asking questions about math homework, objecting to cleaning their room, comparing notes about their teachers with their friends, giggling uncontrollably, etc. They don't act like women yet, even though I know that day is coming—too soon.

If I keep my eyes closed, I can imagine I still have little girls running around my house. Now if I can just stop bumping into things ...
---
Since 2004, Don Staffin has been writing a monthly newsletter, which he recently turned into a book called "Postcards from the Garden of Estrogen" (available at www.donstaffin.com). Don is Senior Vice President of ShipServ Ltd. When not working or writing, he coaches youth soccer and basketball, and serves as the chairman of the Recreation Board of Bridgewater Township.