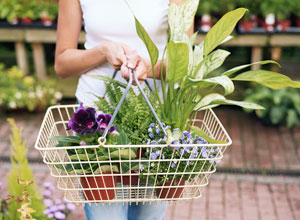 City Farmer Nursery in Southeast San Diego is world unto itself.

A glance from the street reveals only a small storefront with a big sign. But open the door and, like Harry Potter's magically modified Ford Anglia, the nursery is bigger on the inside than its boundaries can possible reveal.

City Farmer's five-acre grounds are an urban farmer's paradise. Step through the gate and it is impossible to know where to look first—at the turtles in the pond-building area, at the towering bamboo, at the chickens and turkey strutting in the hen house, or at the patio with supplies for small-scale raised bed vegetable gardening. A small café with fresh-made food sits to the right, a place to rest and renew tired legs. Abundant, chaotic and blossoming, the entire nursery is a place that exudes health.

Bill Tall, the suspender-clad, cheerful and robust proprietor of City Farmer, stands behind the old-fashioned wooden counter of the nursery's store. The walls burst with everything from beekeeping and chicken keeping supplies to bulk herb seeds and seed potatoes to tools for growing tiny bonsai trees. He dispenses advice in the manner of a general store proprietor of the 1800s: with a smile, a cautionary tale or two and encouragement.


Humble Roots
Like many of the plants he sells, Tall is a native San Diegan. In 1972, when Tall was 15 and attending Madison High School in Clairemont, he took two classes that would change his life: Business, where he learned to do balance sheets and accounting, and ROP Horticulture. One day, the horticulture teacher said to him, "Why don't you start a nursery?"

With $250 he earned from a job at Sea World, and a small piece of land his father let him use in Southeast San Diego, Tall started City Farmer Nursery. From the start, City Farmer was dedicated to natural, organic gardening.

"I bought a pile of manure from a dairy, a pile of sand from a truck that was passing by, and a pile of wood shavings from a lumberyard," Tall says. "At the end of the school year, I asked if I could have all the plant material from the experimental garden at the school, plus I took anything I could find at home."

Tall repotted the plants in old milk cartons, as plastic pots had not yet been invented, and he avoided chemicals.

"When I started the nursery," Tall says, "I didn't want to set up the paperwork for chemicals, so I decided to run it organically." As a child, Tall also raised chickens in his Clairemont backyard. "I bought 100 baby chicks mail order," Tall says. "At that time, if you gave your neighbors eggs, nobody complained." When he opened City Farmer, he moved the chickens down to the site. "Even if I didn't have time to get to the market," he says, "I always had eggs to eat and fresh vegetables."


Leading a Movement
Today, Bill Tall's City Farmer Nursery is at the cutting edge of the organic food and "locavore" movements, growing food without chemicals and eating food grown close to home. City Farmer, near the intersection of Home Avenue and Euclid off the 805 freeway, has gained notoriety as the place to buy everything related to home gardening and small-scale farming in San Diego.
Much of the variety of City Farmer has come about through the requests of Tall's customers, and Tall's own desire to learn. "You have to keep looking at alternative ways of doing things," Tall says. "In the early '90s, someone came in talking about hydroponics. So we sold pond supplies. That grew into aquaponics, raising fish and food."
In the future, Tall hopes to expand to include a farm stand of organic fruits and vegetables. However his business expands, Tall will make sure it reflects his values. "When you have a business," he says, "it's not just a business if your heart and soul are in it." For Bill Tall, gardening is not just about business, it's about life. "We can make our own world," Tall says. At City Farmer Nursery, Bill Tall's world is beautiful.

--------------------------
Cynthia Jenson-Elliot is a freelance writer.