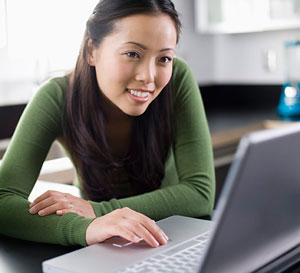 Ready to start your own blog? Not sure? Here are some simple guidelines.

San Diego bloggers "Mama Mary," Mary Burt-Godwin, and Sondra Santos LaBrie offer these insider tips.
Mama Mary Show; www.mamamaryshow.com/
Happy Healthy Hip Parenting; http://happyhealthyhip.wordpress.com/

Mary Burt-Godwin
Get involved with social media sites that can help you increase your readership and find people who can share feedback with you as you get the hang of it.

Select a template site like Squarespace, WordPress, Blogger or TypePad (there may be more but those are the most common). When you are selecting your site name, write it out as one word, just like it will be in the URL.
Write often. Posts don't need to be long, or thought provoking everyday. Put frequent, regular content is important for maintaining a following.

Find a focus. This is easier said than done. I still don't have a focus. I write about anything that comes to my mind, but if you are in the blogging business to make money the key is to find a niche and capitalize on it. I'm too scatterbrained to do that but, "do as I say, not as I do."

Visit other blogs and comment! Most blogs list other bloggers that they like to read in a "blog roll." So if you find a blogger you like, then click on the sites they like and read those too. Commenting on other people's sites helps you establish a rapport with other bloggers as well as helps direct traffic back to your site.

Network. Sign up for various mom/women blogger sites like BlogHer, NaBloPoMo, The Mom Blogs and The Secret Is In the Sauce (SITS). Also, I highly recommend Twitter, in addition to Facebook. Facebook I keep for personal friends and Twitter is more for business use, including blogging business. First learn the ins and outs, by doing research on Google or talking to others you know who may be involved already. A great resource for me has been a site called Mashable.com. They always have great articles about the trends in Social Media.
Attending local "TweetUps," locally organized nights out, is a great way to meet some local bloggers face to face. It always helps to put real people behind the text.

Attend blogger conventions like BlogHer or Blissdom. I'll be going to BlogHer 2010 in NYC this year!

Create video blogs every once in awhile. Considering the fast-paced culture we live in, videos are a perfect way to add some excitement to the static text of a blog. They also help increase Google ranking.

Write what you feel passionately about. The rest will come.

More Helpful Hints from Mary and Sondra


Online Safety
Mary: Never write your address or where you are going to be or when you (or your significant other) will be out of town. I made the mistake of tweeting that my husband was on location in Jamaica with swimsuit models. As soon as I posted it, I realized that I had alerted the world that my daughters and I were all home alone. I didn't sleep much that night.

Sondra: Anything you post online becomes public so pick nicknames for your family members (including yourself) if you don't want their real names out there. Photos of your children might not be something you want to share so think twice before posting anything online.

Common mistakes
Mary: Don't worry about the right time or about what to write? Just dive in. I had no idea what I was doing, and I just learned as I went. I purchased "Blogging For Dummies" but have not opened it once because I have just learned everything from people I meet online and from reading other blogs. If anyone wants to buy my copy at a greatly reduced price let me know.

Sondra: Make sure you get permission from the people in your life to write about them on your blog. You wouldn't want them to find out about it from someone else or after it's already been posted.

Play nice in the virtual sandbox.
Mary: When blogging or commenting on other people's blogs it is best to use the Golden Rule as an example. Don't go spewing off negatively on other sites, if you don't want people to do the same to you.
---------------------
Written by Kirsten Flournoy