San Diego's Best Map of Christmas Lights
2012 Map of Christmas Lights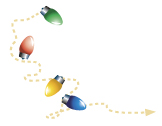 It's beginning to look a lot like Christmas, and we're lighting the way to a bigger and "brighter" season with our annual Map of Christmas Lights! Don't miss the opportunity to see your child's face light up as you tour a sparkling array of residential and commercial light displays around the county. You'll also find tree lightings, Santa sightings, snow days and traditions unique to our region, like "Jungle Bells" at the San Diego Zoo, Holiday of Lights at Del Mar Fairgrounds and three different boat parades, featuring boats "decked out" in beautiful festive lights!

---

Instead of doing the driving yourself, why not hire a limousine? Make it a party with family and friends and be chauffeured around town in style!
Top Dog Limo Bus, 858-581-3644, www.topdoglimobus.com
---

City Lights is California's Largest Christmas Superstore! We have Lights, ribbons, garlands, sprays, wreaths, tree tops, ornaments, artificial trees, angels, santas, and everything for Christmas! Come visit us at 1212 Knoxville St (I-5 Freeway at Sea World Dr.).
City Lights Collectibles, 619-275-1006, www.citylightscollectibles.com

---
Bundle up and enjoy San Diego County's holiday shimmer and shine!


Download our map and listings of Christmas light displays or view the listings below.
2012 Map of Christmas Lights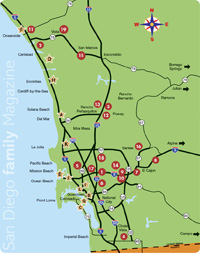 For more information and addresses Click A Neighborhood Below:
1 Allied Gardens, 92120
2 Carlsbad, 92009
3 Carmel Mountain Ranch, 92128
4 Chula Vista, 91910, 91911, 91914, 91915
5 Clairemont, 92117
6 East San Diego, 92113
7 El Cajon, 92021
8 Lakeside, 92040
9 La Mesa, 91942
10 Lomita, 92114 (near Lemon Grove)
11 Oceanside, 92056
12 Poway, 92064
13 Rancho Penasquitos, 92129
14 San Carlos, 92119

15 San Marcos, 92069, 92078
16 Santee, 92071
17 Serra Mesa/Mission Village, 92123
18 Tierrasanta, 92124
19 Vista, 92081


A - L Commercial Holiday Light Displays

1 ALLIED GARDENS, 92120

7048 Hillsboro St.
Off Waring and Princess View.
Dec. 8 - 30, dusk-10 pm. Santa & Mrs. Claus hand out candy canes Dec 22.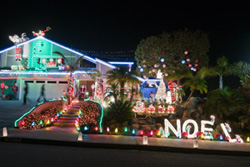 2 CARLSBAD, 92009

7607 Romeria St.
Nicknamed "The Christmas House" with animated window displays and three snow machines. Food Drive donations accepted.
Dec. 2 to Jan 1, 5 - 9pm
3 CARMEL MOUNTAIN RANCH, 92128

Fairway Village, east and west side of Stoney Gate Pl.
90+ homes decorated in "Holiday Magic." Lights synchronized to music.
Dec. 1 to Jan. 1, 5:30-10:30 pm.

4 CHULA VISTA, 91910, 91911, 91914, 91915


Whitney St./Mankato.
Circle between First and Second Ave. off H St. & 1st Ave. "Christmas Circle." 55+ homes decorated.
55+ homes decorated.
Dec. 8 - 26, 5-10 pm.
5 CLAIREMONT, 92117

Lana Dr. & Jamar.
Off Mt. Abernathy Ave.
Circular street. 40+ homes decorated.
Dec. 8 - 27.

4670 Norwalk Ave.
Off Clairemont Mesa Blvd./Moraga Ave.
Dec. 11 to Jan. 1, 7-10 pm, weekends 7-11 pm.
6 EAST SAN DIEGO, 92113

4641 Craigie St.
Off Highway 94 and 47th.
Dec. 10 - 24. Dusk to 10 pm
7 EL CAJON, 92020, 92021

Jingle Bell Hill (also known as Pepper Dr. Lights).
Solomon Ave./Pegeen Pl. and surrounding area. Off 67 & Bradley.
Dec. 8-26, Mon-Th 6-9 pm, Fri-Sun 6-10 pm.

11456 Pegeen Pl.
"Nightmare Before Christmas" theme, complete with Jack, Sally, Zero, the Mayor & Oogie Boogie.
Dec. 8-28, Mon-Th 6-9 pm, Fri-Sun 6-10 pm.
1838 El Pico Dr.
Off Hacienda Dr.
49th year of decorating the 20-ft. star over 100 ft.
Nov. 25-Dec. 31.
Also see a 55-ft. train. Dec. 9 - 31, dusk to 10 pm.
1768 Cono Dr..
In Mt. Helix area of El Cajon.
Display timed to music and broadcast over a short wave radio station. The focus of our display is a 14-foot spiral tree made with 3,200 lights.
Nov. 23 - Jan. 1, Sund–Thurs 5pm-10pm, Frid – Sat 5pm–11pm

8 LAKESIDE, 92040

10248 Paseo Palmas Dr.
Nicknamed "Tinsel Town."
Dec. 1 - 25, 5:30pm – 9pm
13518 Appaloosa Drive
Light-O-Rama Christmas displays.
Audio transmitted on FM, running 48 channels this year.
9 LA MESA, 91942

7390 Stanford Ave.
Over 20,000 lights on miniature trees, house and lawn. Santa and his reindeer, several giant inflatables and over two dozen poinsettia plants.
Dec. 1 -31, dusk-10 pm.
6266 De Camp Dr.
22-ft tree of light, penguins and more. Lights are synchronized to 88.5 FM featuring over 15 Christmas songs.
Through Dec. 25, 5-9 pm.

10 LOMITA, 92114 (near Lemon Grove)

689 Meadowbrook Dr.
Off Jamacha Rd. South of Lemon Grove.
Many lights on home.
Dec. 8 to Jan. 1, dusk to 10 pm.
Santa and Mrs. Claus may be out from Dec. 17 - 23.

11 OCEANSIDE, 92056

3648 Esplanade St.
Nicely decorated homewith light and music show.
Dec. 1 - 31, 5-10 pm

12 POWAY, 92064

12631 Stoutwood St.
Off Twin Peaks Rd. & Deerwood St.
Nicknamed "The Griswolds."
Dec. 1 to Jan. 1, 5:30-10 pm weekdays, 11 pm weekends.

Hickory Ct./Hickory St., 12659 Butterwood Ct. and Rockrose Ct.
All off Twin Peaks Rd. & Silverset St. named "Candy Cane Courts."
Entire cul-de-sacs are lit up.
Dec. 8 – 24, 6-9 pm.
13 RANCHO PENASQUITOS, 92129

Oviedo St.
Off Black Mountain Rd.
"Christmas Card Lane."
Also enter off Twin Trails Dr., Carmel Mountain Rd., Ellingham St., Renato St., Oviedo St., Twin Trails Dr., Barrymore St., Rotherham Ave., Talca Ave., Talca Ct., Allenbrook Way, Davenport Ave., Amber Sky Ln.
Dec. 10 – 31, dusk-10 pm.
14 SAN CARLOS, 92119

Block of 7900 and 8000 Hillandale Dr.
Off Mission Gorge & Deerfield.
Dec. 1 - 31, 5-9 pm.

15 SAN MARCOS, 92069, 92078

1639 Knob Hill.
Off Nordahl Rd. Between Tam O' Shanter Dr. & Augusta Dr. 25th year of decorating.
1000,000+ lights plus Carnival, Santa Puppy Rescue, North Pole and Santa's Wild Animal Park themes.
Nov. 24 to Dec. 30, 5-9 pm.
See Santa from 6:30-8pm on Dec. 10-23.
www.christmasonknobhill.com

1145 Barham Dr. #20
Santa and Mrs. Claus pass out candy canes in front of a festively decorated house. Nov. 22 to Dec. 24, Sun–Thurs 5:30pm – 8pm, Fri & Sat 5:30pm – 9pm

16 SANTEE, 92071

Sunburst Santee.
Tomel Court, off Magnolia.
Many homes, Starlight Circle.
Dec. 17 to Dec. 26, 7-10 pm.
9835 Pebble Beach Dr.
Displays on house and yard set up to music.
Dec. 1 – 31, dusk to 10pm
17 SERRA MESA/MISSION VILLAGE, 92123

2621 Raymell Dr.
The clash of both holidays! Yard decorated like Halloween Town from "A Nightmare Before Christmas." Dec 1–31, dusk–10pm

18 TIERRASANTA, 92124

5306 Belardo Dr.
Off Via Valarta & Via Playa De Cortes.
100,000 lights,including many homemade decorations, all sequenced and animated to music.
Tune radio to 89.7 FM to hear the lights dance.
Nov. 24 to Dec. 26, 6-10 pm.
www.belardolights.com

11626 Papagallo Ct.
Off Colina Dorado or Calle De Vida. "Smurfs Christmas" theme.
Dec. 8–31, 6-10 pm.

10927 Baroque Lane.
A "Snowman" themed Christmas featuring a 16-ft lighted snowman on the roof and a North Pole inspired lawn featuring several 4–6 ft snowmen. Dec. 7–29, 6–10pm.

19 VISTA, 92081

1505 Roma Dr., corner of Lupine Hills and Roma Dr.
Inflatables and over two dozen homemade plywood cutouts of Disney and other holiday characters.
Nov. 24 to Dec. 31, Sun-Th 6-10pm, Fri-Sat 6 pm-midnight.


Commercial Holiday Lights Displays
A Del Mar Fairgrounds Holiday of Lights
Jimmy Durante Blvd./Via De La Valle. Off Highway 5. Animated holiday lights. Nov. 22-Jan. 1, Sun.-Thurs, 5:30-10 pm; Fri.-Sat., 5:30-10:30 pm. Closed Nov. 26, Dec. 3 & 10. $15/car (up to 5 people), $20/vehicle (6 or more), $50/bus. 858-755-1161.
www.sdfair.com, www.holidayoflights.com.

B Gaslamp for the Holidays
Downtown San Diego. Trees of the Gaslamp will be illuminated through Jan. 1, 5 pm-midnight. www.gaslamp.org.

C Hotel del Coronado
1500 Orange Ave. Tree in the lobby is beautifully decorated plus 100,000 lights illuminate the resort from Nov. 28-Jan. 1. Lighting celebration of the hotel Nov. 28, 4-7 pm. 619-522-8490. www.hoteldel.com.

D LEGOLAND Holiday Snow Days
Real snow! Snowball targets, build a snowman with LEGO accessories, see holiday LEGO displays. Nov. 23-Dec. 31. Nightly tree lighting at 5:30 pm, Nov. 26-Dec. 24. Nightly fireworks, Dec. 26-31. 760-918-5346.
www.legoland.com.

E Mission Bay Christmas Boat Parade of Lights
Over 100 vessels. Begins on Quivira Basin. Dec. 8, starts at 7 pm, fireworks at 9 pm. 858-488-0501. www.mbyc.org.

F Oceanside Harbor Parade of Lights
Boats decorated in holiday lights circle Oceanside Harbor. Dec. 8, 7 pm. 760-722-5751.
www.oceansideyc.com.

G San Diego Bay Parade of Lights
41st Anniversary, "USS Santa Claus" theme. Parade Dec. 9 & 16. 5:30 pm to 9pm. Starts off Shelter Island, goes through the harbor and ends at the Ferry Landing, Coronado. www.sdparadeoflights.org.

H San Diego Botanic Garden "Garden of Lights"
230 Quail Gardens Dr., Encinitas. 100,000+ lights illuminating the Garden. Dec. 8-23, 26-30, 5-9 pm. Nutcracker display, marshmallow roasting, live music, holiday crafts. Adults, $12, children 3-12, $4. 760-436-3036.
www.SDBGarden.org.

I San Diego Zoo's Jungle Bells
Balboa Park. Dec. 15-Jan. 6. Lighted animal figures, bell ringers, nightly tree-lighting ceremony, "The Night Before Christmas" show. 619-231-1515. www.sandiegozoo.org.

J SeaWorld Christmas Tree of Lights
The Skytower sparkles nightly at 6 pm. Nov. 23-Dec. 25. www.seaworld.com.

K Sights and Sounds of Christmas
San Diego Temple, 7474 Charmant Dr., UTC
Walk through the grounds lit with 110,000 lights. Dec. 8-Jan. 1, 5-11 pm. Free.

L Victorian Mansion/The Forward House
108 Ivy St., corner of First and Ivy, downtown San Diego. Nov. 22-Jan. 1, 5-10 pm. Santa gives out candy canes Dec. 14 from 5:30-8:30 pm. 619-533-7900.

------------------------
If you know of any beautiful Christmas light displays in San Diego County that aren't listed, contact us to be included next year: 619-685-6970; family@sandiegofamily.com