What's New for the Family Car in 2013?
13 is a Lucky Number for Automakers—and Their Customers
What's new in 2013 for the family car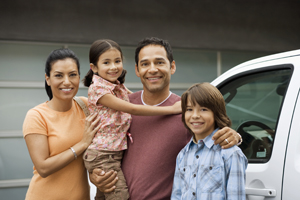 Many folks consider the number 13 to be unlucky. But for the U.S. automakers—and the customers who drive their models—the year 2013 is shaping up to be a season of fantastic fortune for families.
That's because after several years of declining production and reduced choices of family-friendly new vehicles due to a down economic recovery and the tragic Japan tsunami, automakers are roaring back to the showrooms in 2013 with many new models packed with high technology, better fuel economy and improved safety features to help keep the American carpools cruising long.
Now, parents in search of new wheels to handle the daily challenges of family schedules have a multitude of choices offering greater fuel efficiency, safety, comfort and high-tech gadgets designed to make the road smoother, greener and more fun for all. Every model – from soccer mom minivans to tiny sedans – has something to help ease the stress of being an active family. Here's a look at some of the top family cars in 2013.


ELECTRIC CARS
Yes, the future of non-gasoline powered vehicles has finally arrived. In 2013 several major manufacturers are rolling out new electric models available to purchase or lease.

Honda Fit EV
This compact crossover has made its way to the driveways of many economically minded families, and now it's getting an electrified version that Honda began leasing in July of 2012. The battery can be fully charged in about three hours to give the EV a range of more than 80 miles on a charge. That's plenty for around-the-town trips to the grocery store and soccer fields. (Lease price: $389 per month / Miles Per Gallon equivalent – MPGe: 118)


Mitsubishi MiEV
Like the Honda Fit, the Mitsubishi MiEV is fully electric, never having to stop at a gas station and can be charged in your garage or at one of thousands of electric charging stations nationwide. The MiEv is a cute, egg-shaped little four-door runabout that will conquer 82 miles on a single charge. (Base price: $21,625 / MPGe 112).


Toyota RAV4 EV
In a joint effort with electric automaker Tesla, Toyota is rolling out an EV version of this compact utility vehicle, making it the first all-electric SUV on the market. Range estimates are just over 100 per extended charge. (Price: $50,615 / MPGe: 72).


Ford Focus Electric
The first of the Big Three U.S. automakers to dive into the full electric vehicle parade, Ford has also developed a 240-volt charging station that will take you about 80 miles on a charge. You won't have to worry about getting strange looks from your neighbors, because the Focus looks just like its gas-powered sibling, yet never has to stop for gas or an oil change. (Price: $39,995 / MPGe: 105)


Coda electric sedan
Independent car manufacturer Coda is based in Los Angeles and has launched an impressive all-electric sedan that is set on satisfying all of a family's needs. The decidedly traditional design is that of a non-descript, four-door sedan, but as soon as you get behind the wheel of the Coda, you know you are driving something special. The quiet ride has lightning quick get up and go, and the car moves in and out of traffic with ease and the battery will take you up to 120 miles on a full charge. (Price: $38,145 / MPGe 77).


CROSSOVERS

Ford C-Max hybrid
This new crossover hybrid is going-head-to-head with the Toyota Prius C in the mileage wars, achieving 47 mpg combined for city and highway driving.


Subaru XV Crosstrek
The highly popular Impreza has grown up into a compact crossover that enjoys the same capable ride as its sibling with the added enjoyment of a higher ride, larger wheels and bigger brakes. (Price: $22,790 / MPG: 26 est.)


Buick Encore
The all-new Encore is a slimmed down version of the Buick Enclave, offering the luxury and comfort of a sedan with the family-friendly flexibility of a utility vehicle. Some of the Encore's high-end features include a remote vehicle start; rain-sensing windshield wipers and a heated, leather-wrapped steering wheel. (Price and MPG: TBA)


Ford Escape
Ford is calling its new Escape a "Smaller Utility Vehicle" because of its sleek, compact design that has versatility and good fuel economy of a much more compact vehicle. Parents will enjoy plenty of new, hands-free technology, including a foot-operated power tailgate, voice-activated sound and Bluetooth system that make communication easier than ever. (Price: $33,630 / MPG: 22/33)


Mazda CX-5
Replacing the Tribute, Mazda's extra small minivan, the CX-5 is a crossover that has higher driver visibility, all-weather driving capability and better fuel mileage than most crossovers. (Price: $20,995 / MPG: 26/32/29).


Honda CR-V
The all-new CR-V offers the best overall balance of sophisticated styling, fun-to-drive character, excellent fuel efficiency, all weather capability and a good combination of passenger comfort and interior utility. (Price: 28,375 / MPG: 23/31/26)


SEDANS

Honda Accord
Always a popular pick for families, the new Accord is shorter than previous models, yet features a stylish design with plenty of interior space for families and their cargo. (Price: $21,480 / MPG: 23/33)


Nissan Altima
The new design of the popular Altima gives it a little more length and width, but less weight than the previous model. This nimble mid-size model also features a more efficient engine that translates into better fuel mileage for family travels. (Price: $21,500 / MPG: 27/38)


Volvo S60
Volvo has added all-wheel-drive to the S60 T5 model, and a host of safety features that earned top safety awards from the Insurance Institute of Highway Safety. (Price: $31,750 / MPG: 21/30)


Chevrolet Malibu Eco
General Motors has risen from the deathbed to make the most of its new life by rolling out a family-friendly sedan that gets better fuel economy than any other non-hybrid mid-size sedan. The Malibu Eco's sporty styling and roomy interior is sure to be a hit for sensible families. (Price: $25,995 / MPG: 25/37)


COMPACTS

Chevrolet Spark
Looking for a bargain basement, back-to-school car for your college-bound kid? The new Chevy Spark is a little sprinter that is surprisingly roomy inside, with a fold-down rear seat to accommodate all that important dorm-room furniture, groceries or weekend warrior play gear. (Price: $12,245 / MPG: 32/38)


Honda Fit
The Fit offers a subcompact exterior with amazing interior space for
passengers and cargo. The "magic seats" fold in multiple configurations to fit kids and their toys, the compact size allows parking in tight shopping mall spots. (Price: $15,325 / MPG: 27/33)


Dodge Dart
The new Dodge Dart is a prime example of Chrysler's resurgence in the automotive world. On the brink of bankruptcy three years ago, the mainstay American manufacturer was given a second life in a loan from President Obama's stimulus program, and was able to then merge with Italy's Fiat to bring exciting new products, such as the sporty compact Dodge Dart, to the U.S. market. In spite of its size, the Dart has plenty of room for families and a full suite of safety features. (Price: $18,790 / MPG: 25/36).


SPORT UTILITY VEHICLES

Honda Pilot
The Pilot is a great compact utility vehicle for those who need
off-road capability. Available in two or four-wheel drive, the Pilot seats up to eight people and can tow trailers or boats, making it great for camping, towing a boat, or hauling kids to soccer practice. ($29,800 / MPG: 17/24)


Nissan Pathfinder
The new Pathfinder is more like a mid-size crossover than an SUV, with a sleek new design, panoramic roof and third row for seating up to seven passengers. (Price: $28,270 / MPG: 20/26)


Hyundai Santa Fe
Already popular with savvy parents, the Santa Fe gets even better in 2013 by doubling its lineup with two models: the five-passenger Santa Fe Sport and the all-new, three-row Santa Fe that seats seven passengers. Both are available in front- or all-wheel-drive, with the three-row version also offering a blind spot detection system. (Price: $25,275 / MPG: 23/33).

--------------------------------
Keith Turner is a freelance automotive writer and father. He can be reached at carguy@Hotmail.com or on the web at TheFamilyCar.com, GreenFamilyCar.com and on YouTube at The Family Car channel.