Peter Pan Flies into San Diego
Cathy Rigby Returns to reprise her Tony award nominated role as the boy who wouldn't grow up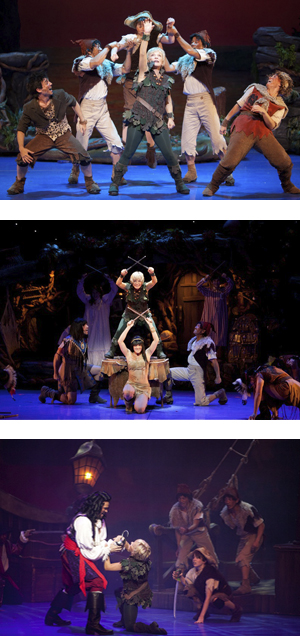 Audiences are invited to discover the magic of the two-time Emmy Award winning and two-time Tony Award nominated production: Cathy Rigby is PETER PAN! Families and fans have their chance to 'fly' into the San Diego Civic Theatre for this magical production running November 13-18th, 2012.
PETER PAN is a unique, family friendly attraction of spectacle and fantasy. The thrill of flying, timeless magical moments and a captivating hook will mesmerize young and old alike. The legend you thought you know, is now the adventure you never dreamed possible.
Since 1990, PETER PAN starring former Olympic gymnast Cathy Rigby has made four stops on Broadway, garnering four Tony Nominations including Best Revival of a Musical and Best Actress in a Musical. Other credits include the A&E Television Network Premiere of "PETER PAN," which received 4 Emmy Award Nominations and one Emmy.
She may have retired at 19 but Cathy Rigby holds the honor of being the first female gymnast to receive a Silver Medal. She explains: "ABC Sports announced that I was one of the most influential women in sports, but it was about ten years ago that I was inducted into the Gymnastics' Hall of Fame and I think being one of the first American women to win a medal in world competition had a lot to do with that."
Rigby continues her recollections by adding, "I just fell in love with live theater with its energy and its people. In some ways it's similar to gymnastics where everyone has certain skills and you work on different techniques to learn how to do what you do but what I love most about the theater is that there's a team of people you work with. You're not working with an inanimate object like a balance beam. You think and feel and watch how other people think and feel in the theater. I absolutely love it!"
Rigby has been doing PETER PAN on Broadway since 1990. Each time she essays the role it becomes more youthful, more joyful and truer to Barrie's original character. Does she have a secret for keeping it so fresh? "Well, I think the role becomes part of you and you find that little kid inside. Believe me, it's a role that if every adult had an opportunity to play it, we'd have a whole bunch of very healthy people out there: emotionally healthy people who are playful and honest."
In 2006, Rigby retired from playing Peter Pan. "I guess it was because I'd been on the road so long. I thought that would be it and simply felt it was time to do other tours and things like that. I went away from it and I had the opportunity to return to the role as a friendship-sort-of-thing in Missouri and it was just because I thought it would be fun to do. After the performances I started going out into the audience to benefit a charity that I'm involved in called Discovery Arts and I'd give kids fairy dust or sign posters and part of the proceeds would go to this charity. As a result I started meeting people who had seen the show, as well as others who had seen it and were bringing with them kids who had never been in the theater before but who'd had a history with the show. I really started to hear wonderful stories and was watching children as they came up and it was obvious that this production has some sort of impact on their lives. They were accompanied by parents or grandparents who had previously seen the show and I felt that I had to go back out and appreciate what PETER PAN offers. It was then that I suddenly realized I missed it. Now that I knew how it really affected people and it was a positive and memory-making moment for so many of them, I just wanted to do it again. My only concern was that the show would be better than it was before."
Rigby has a conservatory for the performing arts in southern California. "I don't care what a kid's potential is, or whether or not they'll have a career in the theater, but one of the things I've found is that they develop and grow as people. We get so many parents who tell us that their child was shy or was insecure but when we put them in a production they love the experience even though they may not be the leads. For many of them it has changed their lives. Some have actually become outgoing, happy children. It's been exciting to see that."
After a bit of reflection, Rigby realizes that there's one thing she'd really like to do. "I'd love to do DANCING WITH THE STARS," she says with great enthusiasm. "I love the show and watch it all the time." This really isn't a bad idea. Teamed with the likes of either Derek Hough or Tristan McManus, Rigby would certainly burn the floor with her gymnastic prowess. After all, this is the woman who flies through the stars on stage. Why shouldn't she dance with the stars on television? ABC Television, are you listening?" (Excerpted from an interview at BroadwayWorld.com)

PETER PAN runs November 13-18, 2012
San Diego Civic Theatre, 3rd and B Street, Downtown San Diego
Tickets available now at http://www.broadwaysd.com/peterpan.php