Pursuing Your Own Education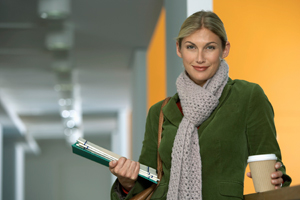 You spend your days playing peek-a-boo and vacuuming cereal out of the sofa. Life with kids can be exhausting, physically and mentally. Sometimes it feels like your brain has turned to mush. Can going back to school help?
The sudden decline in cognitive ability we associate with parenthood is only a myth,
says Katherine Ellison, author of "The Mommy Brain: How Motherhood Makes us Smarter." Research shows mothers have learning and memory advantages, including enhanced perception, efficiency, resiliency, motivation and social skills. Why not apply those skills to your own education?

Get Inspired
If your educational path has been circuitous, you're in good company. Sislena Ledbetter, PhD, came from a blue-collar background. "Get an education" was a resounding sentiment in her childhood home, she says, although her parents did not attend college.
"For me, education was a way to ensure I could take care of my kids," says Ledbetter. She began college at age 18 but took three years off when she started a family. Years later, Ledbetter's son accompanied her across the stage to receive her master's degree.
"My kids don't know how privileged they are to have a mother with an education," says Ledbetter. "But they know they have a mother who leads by example." Ledbetter sets high standards: "I don't ask anything of them that I didn't do myself." She expects her kids to go the extra mile and push through any barriers.

Be Smart About It
Most parents seeking higher education don't have time or money to waste. Before you embark on your learning adventure, spend some time thinking and planning.

Evaluate your Aspirations
What do you want out of continuing education? A better job? Higher pay? Concentrated learning in an area of intense personal interest? Tools to turn a hobby into a craft or career? Schools and programs are specialized. Find the right fit between the institution (size, location, educational philosophy, course options) and your goals. Online classes offer flexibility but may not meet your needs for adult conversation. The right program is the one that's best for you, not the one with the biggest enrollment or highest rankings.

Tackle the Timeline
The pace of education is mostly up to you. Consider the tradeoffs. Finishing a degree quickly may not allow for a healthy balance between parenting responsibilities and school requirements. If your class schedule induces overwhelming mommy guilt, slow down or take some online courses to preserve some time with the kids. Unless your funding source requires you to maintain full-time student status, there's no reason you have to cram your calendar with classes. Work at your own speed.

Find the Money
College courses can be expensive and without a funding plan, you may have to start and stop and restart again when you can afford it. Identify sources of aid for students with your background and experience. Some employers offer tuition assistance programs that cover some or all college costs. If you or your spouse is a current or former military service member, look into Post 9/11 GI Bill benefits (www.gibill.va.gov/benefits/post_911_gibill/index.html). Eligible individuals can transfer their benefits to a dependent (spouse or child). Check with local fraternal and service organizations like the American Legion and Kiwanis, Chambers of Commerce, churches and private foundations about scholarships. Don't forget to complete the Free Application for Federal Student Aid (FAFSA) online at fafsaonline.ed.gov; it is used by school officials to determine your eligibility for grants, loans and other assistance.

Psych Up
Going to school while you raise a family is challenging. Even after you solve practical problems, like childcare and financial aid, you may confront internal obstacles. Returning students often worry that they're unprepared or won't fit in, says Ledbetter. That's just not true. U.S. Department of Education statistics show 39 percent of college students are over age 24, and many have families. Faculty appreciate the real-world experience and greater maturity parents bring to the classroom.
Pursuing your own academic goals is intellectually stimulating and sets an example for your kids, even if you don't plan to work outside the home right away. Start from wherever you are. Real-life learning is not a linear process. You can succeed, even if you take a detour.

Educate yourself before you enroll with these informative materials.

Information for non-traditional students
www.back2college.com/library/faq.htm

"Practical advice: The Adult Student's Guide to Survival and Success" by Al Siebert and Mary Karr. www.adultstudent.com

Insights from other adult students
"The Success Manual for Adult College Students" by Mike Doolin

Financial Aid Information and Application
www.fafsa.ed.gov

----------------------
Heidi Smith Luedtke, PhD, is a personality psychologist and former college professor who has helped many moms achieve their educational goals.