8 Egg-citing Easter Activities
8 Egg-citing Easter Activities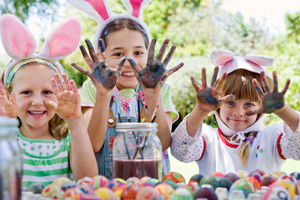 Here are eight fun Easter traditions for your family. Pick and choose a few of them each year … and stick with the ones your family loves!

1 DIY treats. Dying and decorating hardboiled eggs is a classic, but you could also make something out of the ordinary like Jell-o eggs or egg-shaped sugar cookies. Last year my husband and kids made Rice Krispy eggs dipped in melted chocolate chips, and topped them with sprinkles before the chocolate set.

2 Surprise the neighbors. When dark hits the night before Easter, sneak over to a favorite neighbor's (or drive to a close-by friend's) and scatter eggs in their front yard. You can mix and match hard-boiled and plastic eggs. Fill plastic eggs with candy, coins, tattoos, stickers, erasers, etc. Even though doing an anonymous fun thing is great, you should leave a note or card on their door so they know it was you and not a random person putting stuff in their yard!

3 Animal fun! Depending on where you live, bunnies and chicks can be found at kid-friendly farms, pet stores and zoos. Some stores have promotional days where you can come in and pet and hold these little sweeties and take pictures. If you're looking for a family pet, bunnies are a great option for an Easter gift to the family.

4 Picture with the Easter Bunny. Check the website of your local mall to find out if they're hosting an Easter bunny event. Be ready to shell out a few bucks for a photo, or take plenty of your own.

5 Easter baskets. You can buy a simple empty basket at a craft store and fill it with things like pastel Peeps, toys, small books, plastic eggs filled with candy, etc. If you're pressed for time and don't know how you'll be able to assemble an Easter basket, no matter how small, just buy one ready-made! If you have time but are short on money, bake treats to put in the baskets, make a special card for your child or write out coupons for things like getting out of chores or an ice cream cone out with just Mom. Don't forget about your older kids on Easter … everyone can appreciate an Easter basket!
6 Eater egg hunt. Some churches have them days before Easter, and you don't have to belong to that church. You could also hide eggs the night before in your own yard (or even around the house!) after your kids go to sleep so they can have an after-breakfast hunt at their own home!

7 A special meal. If you won't be able to be with family this Easter, invite some friends and neighbors over for a potluck meal at your place. It doesn't have to be anything extravagant … a ready-made ham, paper plates and plastic cutlery just mean less time in the kitchen and more time with loved ones.

8 Relax. After a fun day celebrating Easter in all the ways you love, end your family day with some "hanging out" time. Nobody is allowed to text or play handheld video games or email. This is a time to snuggle up around the TV and reflect on the gift of family and friends.

--------------------------
Kerrie McLoughlin is the proud and kooky mom of five. Check out their adventures at TheKerrieShow.com.
Updated: February 2016