Seasonal Happenings
St. Patrick's Day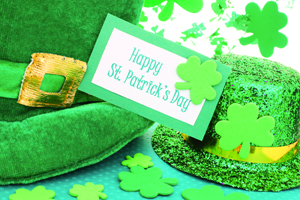 Happy St. Patrick's Day everyone!

---

Recipes
These Irish recipes include customary dishes, with easy-to-follow directions for a yummy St. Paddy's Day feast. Warning: You don't have to be Irish to be thanked in kisses for delicious cooking.
Dubliners Shepherd's Pie
Rhubarb Crumble

Brown Soda Bread
An Irish Feast from the Kids' Kitchen

---

Traditions
Kids love any excuse to make a day extra special. Celebrate wearin' o' the green this St. Patrick's Day with a Fun Look at Some Irish Legends. Then, start some new traditions of your own. Get started with these 5 St. Patrick's Day Traditions to start with your kids.

---

Video

Get outside and search for the holiday's mascot - the four-leaf clover! This time-honored activity is sure to be lots of fun for the kids!
Insider's tip: Here's a video on "How to find a four-leafed clover!"

Dim lights Embed Embed this video on your site
---

Check out our St. Patrick's Day pinterest board for more crafts, recipes and four-leaf fun!