Walk for Babies: March of Dimes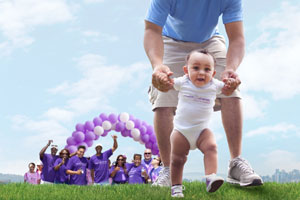 The March is On!
Families marching together to save babies

The 2012 March for Babies will be held on April 14 in Oceanside and on April 28 at Balboa Park in San Diego. Registration begins at 7 a.m. and the walk starts at 8 a.m. The family-friendly events draw more than 12,000 family and corporate teams that help raise awareness and donations to support the vital mission of the March of Dimes.

"For so many women, the moment right after you give birth and you hold your child for the first time is the most amazing moment of our lives, yet there are many women who don't experience that moment right away or worse," says Krista Torquato, mother of two and matriarch of the San Diego-Imperial County March of Dimes Ambassador Family for 2012. "I know that experience changed me forever."

Having had a healthy full-term pregnancy with her first child, Conner, Krista and her husband, Chris, never dreamed of experiencing anything differently the second time around. At 34 weeks, Krista had a tear in her placenta and went into pre-term labor. She delivered, via emergency cesarean section, the family's second son, Tyler Henry, weighing in at five pounds four ounces. Before they could hold Tyler, he was rushed to the neonatal intensive care unit (NICU) where he would spend his first three weeks of life.

"Many of us, including myself, never really think about how important every single day of your pregnancy is to the development of your unborn child," Torquato reflects. "The most basic survival skills many of us take for granted, such as learning to eat, which actually requires babies to know how to breathe, suck and swallow, are not fully developed when babies are born too early."

It was during those weeks at Tyler's bedside, watching the NICU teams care for and tube feed their son, that the Torquato family made a personal commitment to support the March of Dimes.

The March of Dimes is the leading nonprofit organization dedicated to improving the health of babies. Founded by President Franklin D. Roosevelt 74 years ago to combat polio across the country, the March of Dimes today continues to lead the campaign for the well being of all infants by preventing birth defects, premature birth and infant mortality.

"Many people do not know that one out of eight babies is born premature and that prematurity is the leading cause of newborn death in the United States," explains Shannon Rimmereid, executive director of the San Diego-Imperial County Division of the March of Dimes. "Birth defects, infant mortality, pre-term births are all difficult subjects to discuss and the March of Dimes is able to be the voice of awareness to advocate for research, education and services in our community—a voice for those families directly affected by the mission and those who share our passion for the cause."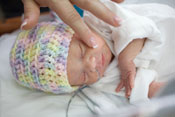 Along with dedicated volunteers in San Diego and Imperial counties, Rimmereid's staff continues to make strides locally through fundraising efforts. The annual March of Dimes March for Babies is the largest event for the organization and represents 70 percent of the total revenue for the national foundation.

"March for Babies is an event where everyone can participate and make a difference—big or small, young or old," says senior director of fundraising Brad Pagano from the San Diego-Imperial County Division office. "In 2011, we raised more than 700,000 dollars and this year we hope to raise 900,000 dollars. Funds that will go directly back to our community to support local research and programs for families."

Since 1970, participants have been encouraged to form Family Teams, which include family members, friends and neighbors. Team members can work together to promote the cause and raise donations and awareness. Family Teams can sign up online at http://www.marchforbabies.org www.marchforbabies.org.
"We became involved with the March of Dimes eight years ago when we formed our Family Team," explains Donna Schweitzer, the California state family teams council co-chairperson from Escondido. "We knew we needed to get involved to somehow say thank you for the life our oldest son."

Donna's son Ryley, now 11, was born at 26 weeks in September 2000 due to complications, and weighed exactly two pounds. As with most micro-preemies, Ryley suffered respiratory distress and spent 93 days in the NICU until arriving home Christmas day, just four days before his original due date.

"March for Babies itself is a day of celebration for our family. We celebrate the miracle that Ryley is, as well as our two healthy, full-term children, Grace and Ethan. It is a day to join with other mission-affected families in honoring our survivors as well as those babies who have become angels. We fundraise because it is one way to thank the March of Dimes for our son," says Schweitzer. "We hope to help families who are now where we were 11 years ago. We also work towards the day when prematurity, like polio, is a memory."

"To watch the hundreds of Family Teams and volunteers come out on the day of the walk is truly inspiring," says Amber Lingle, campaign coordinator with March of Dimes. "This event not only changes the lives of babies but it will change you, whether you participate as a marcher or volunteer. It is clear to see that the people in San Diego and Imperial Counties have big hearts that are willing to give back and share their time, efforts and resources. They make my job easy, and we at March of Dimes cannot thank them enough."
Both the Torquato family and Schweitzer family will have Family Teams participating in this year's march and hope that many more families will join them in April. For assistance, volunteer opportunities or more information about March for Babies, please visit www.marchforbabies.org or call the March of Dimes Family Teams specialist, Olivia Kleinrath, at 858-300-6407.

-------------------
Olivia Kleinrath is the Family Team Specialist at March of Dimes.