San Diego Museum Month Deals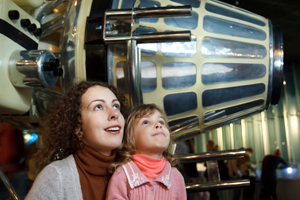 Explore more than 40 museums at half-price during San Diego Museum Month!

This February, the San Diego Museum Council gives families the opportunity to make lasting memories by visiting over 40 museums at half-price admission prices during San Diego Museum Month. Find out what subject your child is interested in and take them to learn more about art, science, photography, history, nature and more. Museums have an important role in the development of a child's education as a place of fun and active learning and there are a number of great museums all over the county specifically geared towards kids.

Pick up your free Museum Month pass starting February 1 at any of Macy's 14 locations in the San Diego Area, Temecula, and Imperial Valley. With a pass, up to four visitors can gain admission to any of the 40 participating museums for half-off admission. For additional information visit www.sandiegomuseumcouncil.org/museum_month.

Try out these kid-centric museums:

Birch Aquarium at Scripps
2300 Expedition Way, La Jolla
http://aquarium.ucsd.edu
Offers ocean science education through creative exhibits, aquariums and kid-friendly programs and activities.

Maritime Museum of San Diego
1492 North Harbor Dr., San Diego
www.sdmaritime.org
Family activities and explore a world-class collection of historical ships and maritime artifacts.

Museum of Making Music
5790 Armada Dr., Carlsbad
www.museumofmakingmusic.org
View hundreds of vintage instruments and discover the historic milestones, popular music and instruments of different eras. Enjoy audio and video clips, and experience a vibrant interactive area, special exhibitions, concerts and educational programs.

New Children's Museum
200 W Island Ave., Downtown
www.thinkplaycreate.org
If you haven't brought your kids to the New Children's Museum then don't wait another minute. This is one of the most dynamic museums for kids to engage with art in a tactile manner with multiple studios where they can reflect on what they learn and create art in the museum.

Reuben H. Fleet Science Center
1875 El Prado, Balboa Park
www.rhfleet.org
Offers more than 100 hands-on science exhibits for all ages, it's the site of Southern California's only IMAX Dome Theater.

San Diego Air and Space Museum
2001 Pan American Plaza, Balboa Park
www.sandiegoairandspace.org
Kids can feel like space travelers in the new exhibit Black Holes: Space Warps & Time Twists, opening February 4. Designed like a space mission, visitors are briefed, issued a Black Holes Explorer ID Card, and then sent on a journey to the edge of these strange phenomena to discover how the latest research is turning science fiction into fact, challenging our notions of space and time in the process.

San Diego Botanic Garden
230 Quail Gardens Dr., Encinitas
www.sdbgarden.org
If your kids are into climbing around outside then don't miss the awesome tree house at the San Diego Botanic Garden. It has a whole outdoor area called the Hamilton Children's Garden where kids can explore nature and pot a plant on special occasions during the month. This is a perfect museum for a beautiful day when the kids are feeling restless and want to run around outdoors.

San Diego Children's Discovery Museum
380 North Escondido Blvd., Escondido
www.escondidochildrensmuseum.org
Experience a world of wonders with hands-on activities for the entire family including a tree house, imagination playground and a creative toddler area for the little ones.

San Diego Natural History Museum
1788 El Prado, Balboa Park
www.sdnhm.org
Another exciting exhibition that even adults will enjoy is Titanic: The Artifact Exhibition opening February 10. Upon entering this highly anticipated exhibit, visitors will receive a replica boarding pass granting them permission to board the Titanic, and from there the journey begins. The galleries focus on the legendary Titanic's compelling human stories as best told through authentic artifacts recovered from the ocean floor and extensive room re-creations.

San Diego Museum of Man
1350 El Prado, San Diego
www.museumofman.org
This anthropological museum's exhibits and events explore cultural artifacts, folk art and archaeological finds.

---------------------------
Danielle Susalla Deery is the Director of Exhibits and Communications at Oceanside Museum of Art.