Choosing Between a Community College or a University
» Find scholarship and contest opportunities on our TOTALLY TEENS page, updated every month.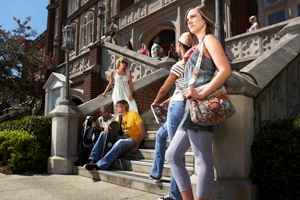 Choosing Between a Community College and a Four Year University
When your child is still in diapers, it's time to think about college. Including college fees, tuition, books and supplies, a year at community college cost California families over $2,000. California State University at San Diego fees are over $6,700, while a year at UC San Diego set families back over$12,500. Private colleges in the area can charge over $31,500 for one year of schooling. If your child goes away to college, the room, board, and pocket money add up to a huge chunk of your debt. However, if you start saving now, you'll be prepared.

When your budding scholar enters ninth grade, make sure your child is enrolled in the most academically rigorous curriculum that he is capable of achieving in order to best prepare for the trials of a college or university classroom. To help guide your children in the right direction, make sure they take career tests.

Jay Leach, a counselor at San Diego's Clairemont High School says, "One of the tools we use to help students decide between attending a university, community college, technical school or other types of job training are the career tests given through our Naviance program." Naviance has an abundance of data on each college and university to assist students in determining the best school for them. Leach says, "The tests measure personality and student interests generating a list of careers that are organized by the amount of education needed to attain a job." This is a good time for students to research career interest, pay, and educational commitment.

By the time students reach their junior year of high school, they have a pretty good idea about what profession they'd like to pursue and the colleges or universities they would like to attend. You need to think about your financial strength, your child's academic achievement, and his or her social and psychological profile. With your concerns and your child's desires, work out what best fits your family's budget and your son or daughter's comfort zone.

Ray Wong, a San Diego City College counselor says, "Due to the state budget situation, it is increasingly difficult to go directly into a four-year university. Community colleges provide a positive alternative."

Every community college in San Diego has articulation agreements with the University of California and the State University of California systems. These are formalized contracts between colleges so that a student can be assured that the courses they take at City College will work for the university to which they transfer. With transfer admission guarantees, many interested graduates of a two-year school have a direct path to a UC or CSU.

There are other advantages to a community college other than lower fees and admission guarantees. Erin Charlens, Associate Professor/Counselor at San Diego City College says, "Many students appreciate the opportunity to learn in a smaller classroom environment, making their professors more accessible, ultimately enriching their learning experience."

High school counselor Leach points to the remedial classes for students who need help improving their skills to college standards. He knows from experience. "When I attended community college, I had low scores in writing and mathematics. I took remedial classes and lived in the tutoring labs to improve my skills." It took Leach five months to boost his ability level to college standards. He says, "Never give up, because you will succeed."

There are a few downsides to attending a community college. Since they don't have dorms or housing facilities, there is a lack of "campus" and or "college atmosphere." They don't have the prestige or status of a four-year school and they usually don't offer the variety of social and cultural activities typifying dormitory life at most four-year colleges and university campuses. Parents and students must consider the social and or psychological readiness of a student's ability to live away from home. Two extra years to mature while attending a community college can make all the difference to adjusting to campus life.

Leach says, "It is a misconception that community colleges are easier than four-year schools. My community college classes were actually more rigorous than most of my university classes." Professor Charlens agrees and adds, "Reduced operating budgets continue to affect the number of sections and courses that the community college can offer. This impacts the number of students we can serve."

That is why Wong says, "Because of the economy, more people are attending community colleges, so classes fill up fast." He suggests for students to apply to the community college months before a semester begins and register for classes as early as possible. Not all students earning an Associates degree want to transfer to a four-year college. Wong says, "Many go directly into their careers.
According to our institutional research, in 2007-08 school year, City College awarded 613 Associate of Arts or Associate of Science degrees to students and transferred 484 to four-year universities."

Not every career requires a BA degree. Careers in cosmetology, air conditioning refrigeration, graphic design, nursing and machine technology, are just a few career possibilities offered at community colleges that can't be found at a university. It all depends on the aspirations and motivational desires of the student.

Planning for college doesn't begin at 17. It's an expensive commitment that needs financial backing, student soul-searching, and family cohesiveness to ensure a successful college experience. The community college is a perfect place to start, especially if your high school grad needs extra year or two to mature.

--------------------------
Michale Thal is a freelance writer and father to three daughters.
---
>>Find scholarship opportunities each month in our Totally Teens section. We also have Volunteer Opportunities to improve your college entrance chances.