Saving For Your Child's College
» Find scholarship and contest opportunities on our TOTALLY TEENS page, updated every month.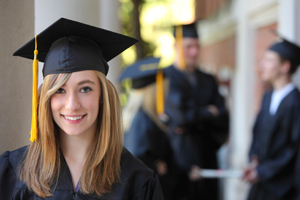 "It is too late to start saving… I don't have time to worry about it now…Money is tight… I don't have a penny to spare…I don't know how to save…"

Does this sound familiar? Who wants to come up with one more thing to put on our "to do" list? I know I sure don't. I know it's tough. We are all pinching our pennies these days trying to make ends meet, but putting something extra aside each month for little junior's education should be a top priority. It makes much more sense to earn interest on your money now than to have you or your child pay interest on money borrowed for college years from now, doesn't it?
For starters, don't be so hard on yourself. The reason most people don't put money aside is because they think they need to tuck away hundreds of dollars every month, and honestly not many of us can do that right now. Saving for a child's education should be exciting. By finding a way to provide your child with the opportunity and tools to become anything they want to be should be on the top of your list. So, let's try to make this easy.
If your child is old enough to understand what money is and count it—get her involved! Your children may find more fun ways for you to save if you make them a part of the process. Heck, make it a game if you have to! Saving for college can become a great financial learning experience for your children and help them prepare for the future.

Open a savings account today! Many local banks will let you start a savings account with a minimum balance of $25 dollars. In most cases, you will need to keep the minimum balance to avoid any minimum balance charges.

Enroll in a 529 Savings Plan. Some plans allow money contributions at a minimum of only $10 - $25 per month.

Find Free Money! No, it isn't growing on trees but here are a few helpful hints in finding it. Once you find a few bucks here and there, stash it right away into a saving account. The longer it sits around, the easier you will be tempted to spend it!

• Clip Coupons: If your child is old enough to cut with scissors, have her cut out coupons of items that you frequently use. Have her add up the savings with a calculator and put that money aside. Don't forget to bring the coupons to the store!
• Rewards Programs: This is serious free money! There are several great websites that offer rewards for purchases that you would normally make anyway. Most of the time these rewards are deposited into a college savings plan. Just remember, the programs are "free" only to the extent you don't end up spending more than you normally would.
• Collect your change: Put all of the change you receive from purchases aside in a jar each day. At the end of the month, have your child count it and deposit it into the bank. Beware of the counting machines that are conveniently located in grocery stores. These machines typically charge a fee, so read the fine print.
• Cash in on Consignment: Clean out the closets and cupboards! Consignment shops are a great source to cash in on items or clothing that haven't been used or have been gently worn.
• Surf for Scholarships: This is a great project for your teen who loves to surf the net. There are many websites that help individuals search for scholarships. By getting your child involved, they are more likely to realize the value of a college education.
• Go to Guidance: Set an appointment for you and your child to speak to their guidance counselor. High school counselors should be a wealth of information. They are more apt to know about local scholarships programs in your area.

Don't get discouraged! Keep deposit slips handy. If you get a few extra bucks, deposit them right away! You will be amazed at how quickly a little bit here and there can add up.

Even if college is only a few years away for your child, any little bit tucked away now can help out with books, supplies and other expenses. It's never too late to start saving for your child's future, so start saving for them now. Remember, your children are our future!


-------------------------------
Kara Ferraro is a publisher and freelance writer with two elementary-age children. She is always looking for clever, budget friendly activities to do with her family and ways to save money.