5 Secrets for a Merry Christmas Morning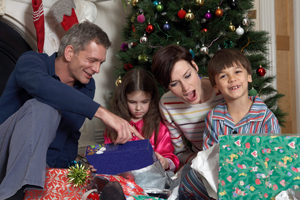 As parents, we want Christmas morning to be a time full of smiles and excitement for both our children and ourselves. We hope that our kids will remember our holidays together as a family when they are adults and that we can talk about the day for years to come.

However, Christmas can easily become overwhelming to children and not live up to our expectations as parents. With a little bit of planning and preparation, you can reduce stress on Christmas morning and enjoy your holiday together.


Set Expectations for Christmas Morning
Decide ahead of time if your children can look under the Christmas tree when they get up, if they must stay in their room until a certain time or if they can wake you up when they awake. If your children will be waiting before opening presents, Dr. Jacqui Lewis- Lyons, clinical psychologist who specializes in children and women's issues suggests hanging your child's filled stocking on their door for them to open while they wait.

Talk to your children about what to expect when it is time to open presents. Is your family going to take turns opening presents or will everyone open presents at once? Is someone going to pass out presents or will everyone get their own presents from under the tree? Can they play with their presents right away or are their certain presents due to assembly requirements that will need to wait until later. It is also good to make sure that you and your spouse are on the same page regarding the plan for Christmas morning and address any issues ahead of time.

Jennifer Pariseu, a licensed mental health counselor and president of The Nurtured Parent, encourages parents not get attached to a specific outcome on Christmas morning. "We often have wonderful dreams of what Christmas should look like and when it doesn't we become disappointed or stress ourselves out trying to make it better."


Consider Spreading Out Gifts
If you children are going to receive a lot of gifts or are very young, consider having them open only a portion of the gifts on Christmas morning. When kids open too many presents, they may become overwhelmed or uninterested in opening any more gifts. One strategy is to open gifts from your immediate family on Christmas Eve and open presents from other family members (and Santa) on Christmas morning. If you will be visiting grandparents later in the day or after the holiday, you could also have your children open presents from them at that time.


Gather Supplies and Set up an Organization System
Make sure that you have all supplies that you will need on Christmas morning within easy reach. Since not having the right batteries for a special toy can cause disappointment, make sure that you have common battery sizes (AA, AAA and C) on hand. Find a Phillips and flathead screwdriver in case you need to remove any battery covers. You should also have a pair of scissors on hand to remove any packaging. Put the batteries and tools in a small basket so that you can easily find them when needed.

To help keep the opened presents from getting lost, give each person a basket or laundry basket to put their present in after they open them. This is especially helpful if you are opening presents at someone else's house and will need to bring them home. If your children will be writing thank you notes, you should also come up with a system to keep track of who gave them each present, such as keeping the tag with the present or keeping a list.


Create Traditions that Don't Involve Presents
By creating family traditions that do not involve gift giving, you can help keep the focus of the day on your religious beliefs and on spending time together. Have a special food that your family eats every Christmas morning, such as a coffee cake from a local bakery or a homemade casserole that you make together on Christmas Eve. Some families buy matching pajamas and wear them to open presents on Christmas morning.

Pariseu encourages families to also have a family activity after the presents are opened, such as a snack, singing songs or going outside together.

"Expect a 'let down' after present opening. The anticipation is gone and there is a transition to going back and playing with the new toys," says Pariseu.


Encourage Gratitude
By teaching and modeling gratitude on Christmas morning, you can also help reduce the stress and keep the spirit of the holiday in your day.

Dr. Lewis Lyons suggests having each child open one gift at a time. "Taking turns and really looking at the gift and who it is from will help them appreciate the gift."

Coach your child to thank the recipient even if they do not like the gift or received a duplicate. Be sure to also have your children write thank you cards for each gift after Christmas. Model this behavior yourself by thanking your child for the present that they gave you and any other gifts that you received from other people.

If your child (or you) begins to get overwhelmed or cranky on Christmas morning, take a break. Go outside, have a snack or take a nap. The presents will still be there when you are ready to open them, even it is on December 26th.


-----------------------------
Jennifer Gregory is the mom of two kids and three dogs. She bakes a special casserole every year to eat before opening presents on Christmas morning.


---
» Continue the season of gratitude by sharing our "Teach Your Kids the Art of Writing Thank You Notes" article from our December 2011 issue with your kids.