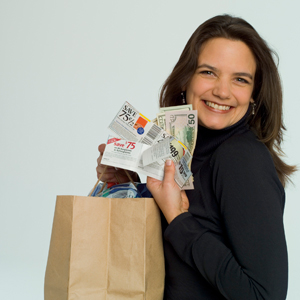 Briana Carter wondered if she was annoying her friends and family with all her stories of the good deals she was finding. Yet, despite her weird obsession with coupons and bargain hunting, they seemed interested in learning how they, too, could save money. Her desire to share led her to start a blog, www.bargainbriana.com, where she could post great deals that could benefit friends and strangers alike. By doing so, this mother of 4 from Tipton, IN joined the ranks of some pretty savvy moms.

It used to be that women shared their household secrets at the local quilting bee, PTA bake sale, or weekly bridge game. At such gatherings mothers had the opportunity to swap recipes, cleaning tricks, and fugal tactics. Today you don't need to know how to sew, bake, or play cards in order to get the skinny on money saving methods. The World Wide Web is a gateway to a veritable treasure trove of frugal wisdom.

If you've ever read a blog, then you're familiar with the digital journal format. Short for weblog, it is simply a chronological record of posts, listed with the most recent entries at the top. There are weblogs on almost any topic imaginable – from dogs to diapers. It's possible to learn all you want to know about your interests by following bloggers who share the same hobbies and pastimes. And if saving money is your bag, then you're in for a treat.

There's a fast-growing network of personal finance bloggers who regularly post on the best deals at the supermarket and the hottest coupons to collect as well as time-tested and time-less frugal tips. They're reaching out to people across the globe to inspire and equip them to make ends meet in a rocky, economic climate. Meet some moms who can help you save money, too.

Crystal Paine, mother of three, is also known as "Money Saving Mom." Crystal and her husband were living an unusual lifestyle, getting through law school debt-free. They learned to be very creative in their spending and saving habits in order to make it. Sharing their story and offering frugal tips gave birth to www.moneysavingmom.com where readers are inspired and equipped to seek great deals, stretch their hard-earned dollars, and live on less than they make.

Amy Clark is the founder of www.momadvice.com. This mother of two from Granger, Indiana hosts a website where moms can learn the basics of frugality as well as enjoy all sorts of inspiration for family fun and home organization. MomAdvice was born when Amy was looking for answers to common challenges that mothers face everyday. When she didn't find what she wanted in one place, she and her web-designer husband created one. Today she regularly writes about ways to simplify, including examples from her real life.

www.Freebies4Mom.com is the offspring of Heather Hernandez's hobby of finding free samples. Based in Houston, TX, this mom of two found that blogging about freebies was the best way to share her discoveries with others. Heather posts several times a day about where to find free samples, enter sweepstakes, print great coupons, and gain other money saving information.

When Angie Wynne found herself scrutinizing store ads for the best prices on diapers and baby formula, she realized she probably wasn't the only one. Other parents could benefit from her research, and so she started www.Babycheapskate.com the very next day. Her site is updated several times a day, every day, with the best bargains to be found for baby, child, and maternity items.

Erin Gifford found that her day job, working as PR Director for an electronic grocery coupon service brought her into regular contact with the world of frugal blogs. This mother of four found that she enjoyed the interaction and the mutual encouragement toward saving money so much so that she started a blog. Her site, www.Couponcravings.com, shares with readers the great deals to be found at grocery, drug, and retail stores as well as features where to nab freebies and locate money saving coupons.

All of these moms blog about their passion—saving money. Each does so in her own way, focusing on the methods that have brought the biggest bang for her bucks. They are eager to share ways to pinch a penny and make ends meet. They do so in a format that is accessible to anyone, anytime of the day. And the ideals they share are those that have stood the test of time. They are, indeed, blogs you can bank on.


-------------------
Jessica Fisher is a wife, mother, and freelance writer, making her home near San Diego. She regularly writes about fun, frugality, and the pursuit of a clean house at www.lifeasmom.com