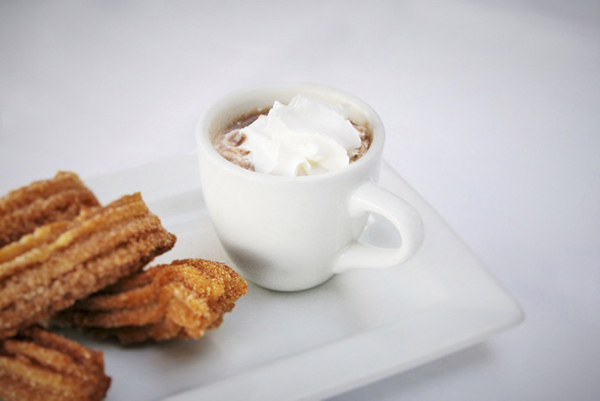 Wondering where to go for a delicious cup of hot chocolate? Here are San Diego coffee shops and eateries that are worth a visit.

The Mission
www.themissionsd.com/index.html
3795 Mission Blvd., Mission Beach
2801 University Ave., North Park
1250 J St, SoMa East Village
The Mission is a great spot for a light version of an Ibarra Mexican hot cocoa or a traditional hot chocolate. With large serving sizes, various locations throughout San Diego, and delicious menu options, The Mission is a local staple.

Hash House a Go Go
www.hashhouseagogo.com
3628 5th Ave., Downtown
Hash House is the go-to place for awesome hot chocolate. The delicious blend is served in a giant "cup" with several full-sized marshmallows. It's sure to satisfy your cocoa cravings!

Pacific Bean Coffee
712 1/2 Garnet Ave., Pacific Beach
Pacific Bean Coffee offers a beachfront hot chocolate experience. Whether you're craving a traditional hot chocolate or something a little unique, Pacific Bean Coffee is the spot to go. They offer a great variety of mocha flavors, any of which can be made into a hot chocolate.

Romesco Mexiterranean Bistro
http://romescomexmed.com
4346 Bonita Rd., Bonita
Romesco's offers classic Ibarra Mexican-style hot chocolate, served alongside an order of churros. Tijuana's Border Churros (on the dessert menu) also includes dulce de leche dip and vanilla ice ream. Want to make your own Mexican hot chocolate? Find Romesco's recipe here.

Caffé Calabria
http://caffecalabria.com
3933 30th St., North Park
Classic café drinks and lattes are a specialty at Caffé Calabria, and the hot chocolates are no exception. Whether you order a classic blend or their Mexican-style white hot chocolate, Caffé Calabria never disappoints on a cool day.

Eclipse Chocolate
http://eclipsechocolate.com
2145 Fern St., South Park
This is the place to go when hot chocolate isn't enough. With eight unique flavor infusions to choose from (such as salted dulce de leche or cardamom rose petal), the rich "drinking chocolates" from Eclipse Chocolat are a local favorite and must-try.
---

Lorea Mendiguren is a student at the Academy of Our Lady of Peace who is often spotted with a mug of hot chocolate in hand.

Do you have a favorite place in San Diego to get hot chocolate? Tell us about it! Email the details (including what makes it special) to This email address is being protected from spambots. You need JavaScript enabled to view it..
Published December 2015