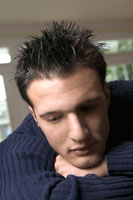 James, 35, expected the birth of his daughter to ring in the happiest time of his life. It didn't.
"I was scared, nervous, preoccupied, worried, couldn't sleep and overate," says James, who already had three stepchildren when his first child was born. "I kind of felt like a dad for three years before that. But interestingly enough, I never felt depressed until after 'my' daughter was born."
His experience is common. A study by the American Academy of Pediatrics found postpartum depression is a significant problem for both mothers and fathers. According to the data, 14 percent of mothers and 10 percent of fathers suffered symptoms of depression after the birth of their child.
"There is a connection between becoming a father and depression," says Jeremy Schneider, a marriage and family therapist who specializes in helping people overcome depression. "I think [depression] is more likely to occur to new parents including new fathers because they have no idea what to expect when they become fathers for the first time."
Schneider believes most parents experience some degree of the "baby blues," a sense of sadness that life is different, coupled with a lack of sleep and a feeling of being overwhelmed. Paternal postpartum depression occurs when the baby blues last
for months instead of weeks.
"That's when partners and families need to try and help out," Schneider says.
James described himself as generous with money before his daughter was born. After the blessed event, he was worried about
finances and panicked about his health.
"Everything got bad so fast I didn't even notice," James says. "I became a hypochondriac." At the time, he believed he had an incurable disease. "It all seems like a wasted blur that I am trying to make up for now." James felt he had no energy to devote to his family, friends or any outside activities. "I missed out on the first three years of my daughter's life pretty much," confesses James. "I would go to work, come home, take a nap for two hours, wake up to eat and drink, then after I got all the kids to
bed and cleaned the house, I would just pass out wherever," says James, who felt he drank a lot.

What is the Cause?
Jerrold Shapiro, Ph.D., professor of counseling psychology at Santa Clara University, and author of When Men Are
Pregnant believes one of the biggest anxieties a new father faces is the loss of his partner's affection.
Also, many first-time dads do not feel an immediate bond with their baby. In some cases the connection can take months to
develop.
"But during those first few weeks or months, it feels like a lifetime, and fathers begin to believe there is something wrong with them, that if they were a good father they would have this immediate special connection," Schneider says.
It increases the strain that men are not encouraged to share their fears, says Karen Kleiman, who is the founder and director of
The Postpartum Stress Center.
"Having a baby and the transition to parenthood is one of life's major stressors and can make a man venerable to depression," says Kleiman, who has a master's degree in social work. "A tendency to withhold feelings and societal pressure to 'suck it up' may interfere with help-seeking behaviors."
Men aren't taught to ask for help, and they grow up believing they shouldn't ever feel depressed.
"If they do start to experience symptoms of depression, they feel ashamed," Schneider says. "So they don't ask for help, only
deepening the sense of isolation and shame they feel."
What to Do
New moms can encourage dads to talk about his feelings.
"In general, men have their most intimate conversations when they are side by side; not face to face," says Shapiro. "Walks or rides in the cars are good locales. She may also have to adjust to his pace of talking and give him space to talk about his feelings in a manner that is slower than what she expects."
Women can help by directing some emotional attention away from the mother-baby bond and to focus on the mother-father-
baby and the lover bonds as well.
In addition, couples must have time away from the house and the baby.
"Both parents need time together, need to feel their connection with each other so they don't feel so alone with all the changes in
their lives," says Schneider.
Shapiro also encourages new fathers to talk to other fathers, get to know the baby, spend time with the newborn and keep up
their physical health.
"Recognize and understand that the new mom is going to be overwhelmed and [don't] take it personally," Shapiro says.
Reading about other dads' experiences may help a father feel less alone and isolated, which is one of the core symptoms of
postpartum depression.
Schneider says, "There is quite a bit of information on the Web, both by professionals as well as dads who have
their own blogs, writing about their daily experiences."
James, who considers himself to be over his depression, encourages other new dads to stay active and have an outlet. "My other
friends back home, they are all having their own kids now, and I am reaching out to them to offer support, rather than waiting
for them to ask."
James, who has a civilian job with a fire department, credits his boss for "snapping" him out of it: "He noticed my work performance slipping." His boss insisted James contact the Employee Assistance Program, a service that helps city employees
with personal problems.
The organization referred James to counseling. "I started taking better care of myself and riding my bike 10 miles a day back and
forth to work. The exercise and the [solitude] really helped."
---------------------
Emily Bees is a freelance writer.