Awards for San Diego Family!
SDFM Wins Four Editorial & Web Awards in 2010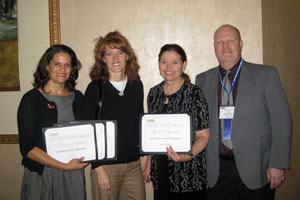 San Diego Family Magazine continues its award-winning streak, bringing home four awards from the three-day Parenting Publications of America (PPA) Editorial and Design Competition and convention in Charlotte, NC.
Sharon Bay, publisher and editor in chief, Kirsten Flournoy, editor and Michele Hancock, marketing coordinator, attended the annual event recognizing excellence in journalism and online media.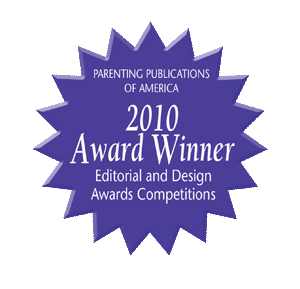 PPA Executive Director C. James Dowden says, "The purpose of the PPA awards competition is to encourage a high level of journalistic performance and service to communities by recognizing editorial excellence and outstanding visual presentation in parenting publications."

Gold: Website Design for SanDiegoFamily.com
Judges' comments, "This is a pleasing home page with a clean and uncluttered look that seems like old school Web design: content ahead of gimmicks. The clean design features a dominant lead story element of four rotating stories backed up with good content and resource links. Rotating articles provide multiple features … Lots of reader contests highlighted. The site uses video, asks for reader-submitted content and uses social media."

Silver: "Tony Hawk: San Diego's Coolest Dad Talks about Babies and 'Boarding"
By Kirsten Flournoy, editor (June 2009)

Judges' comments: "Man, is Tony Hawk cool! This peek into the life of a skateboarding superstar reveals Hawk as a simple man who—despite his fame, fortune and phenomenal talent—remains rooted in family values."

Bronze: "Mommy Diary: Confessions of a Welfare Mom"
By "Rebecca" (June 2009)
Judges' comments: "In crisp prose, a mother tells her secret with specificity and clarity. She outlines the financial collapse of her suburban life by using the standards tools available to any writer: narrative, voice, and compelling details."

Bronze: "Schools of Thought: Math Enrichment/Math Education: Making a Difference"
By Cynthia Jenson-Elliot
February 2009
March 2009

Judges Comments: "Because so many parents and children are math phobic, avoiding the topic in a magazine could be seen as the norm. A series on math enrichment, therefore, might be seen as risky. In this instance, the coverage is clear and of great service to readers."


Yea! San Diego Family!

More Articles...
Page 1 of 2